The Art of Feeling Good through Dance and Moving Meditation (Biodanza)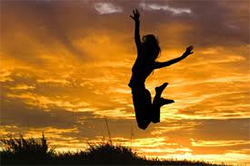 We are excited to invite you to a special weekly programme of Biodanza. In this "world beyond words", you will connect with the experience of dance and moving meditation that will leave you feeling inspired, joyful and open to the power of love.

Biodanza is a dance and movement system. Scientific evidence has proven that it increases wellness, vitality and helps you feel good.

You are invited to dance to the sounds of uplifting music from around the world: tribal drums , latin rhythms, modern and trad jazz, classic rock and reggae and you'll be invited to move to soothing classical and meditative chants and sounds . There is much freedom to express yourself and there are no steps to learn.

We interweave dancing alone, with dancing with partners and dancing as a group. Everything is optional.

We meet at 7.00pm for registration and an opening circle of sharing and/or an opening meditation. We dance from 7.30pm until 9.00pm. We continue the evening as a group to eat and socialise in the pub downstairs after the session.

Benefits:

The system is proven to bring you:
Greater confidence and self expression
More fun, enjoyment, pleasure and bliss and a greater feeling of being alive
Reducing stress levels
Numerous additional positive benefits to your health (see research at University of Leipzig)
Appreciation of the connection to your emotions leading to safely "opening the heart" supporting a deeper connection in relationships
The melting of judgement facilitating easier acceptance of self and others
Connection with the best of yourself
The ability to expand your comfort zone so more is possible

The effects of Biodanza are transformational. After attending only a few sessions, participants have reported significant changes for the better in their lives. The ongoing effect is cumulative. The more you attend, the better the results.

Many report it's as if their brains have been reset for the better. They experience more inner peace, more joy, more love and all manner of "feel good" as well as a deeper spiritual connection which feeds the inner "feel good" cycle. The more you feel good, and raise your vibration, the easier it is to attract your desires into your life.

This group is for you if you love to dance and for you if you don't think you can't dance and would love to .. It's also for you if you are looking to expand your spiritual connection and the benefits that brings. It's also for you if you want to make some inner shifts in the company of like- minded souls.

Where and when is this group meeting?
At the Truscott Arms Warwick Avenue
7.00 until 9.00. Just launched on Wednesdays. If you would like to join us, please drop me an email to karen@theinnerspa.co.uk. We will send you full details about times and dates. Everyone is welcome.

How much does it cost? There are opportunities to comes as my guest if you are amongst the first to reply. Otherwise the cost is £12 per session. £10.00 if you book in advance prior to attending, £9.50 if you book a series of 5 or more sessions.
This series of sessions will be lead by Karen Skehel and Tracy Seed.
About Karen Skehel
Karen Skehel is a Change Agent, working Mind, Body Spirit. She has taught Biodanza on BBC1 and international TV too and has been featured on ITV and has been seen by millions. She has written monthly for Natural Health Magazine addressing readers' life challenges and pioneered the use of self-healing coaching to help people reduce or overcome the symptoms of long-standing or so-called incurable conditions. She has also developed a new treatment process Chikara (meaning "powerful" in Japanese), which combines coaching and healing therapies. In 2011, she became a published author.

Having worked with hundreds of clients over the last 12 years, she has learnt a thing or two about what people want, what they need and what works. She blends her combination of skills to bring her clients experiences that are empowering, fun and life changing. You can find out more about Karen at www.theinnerspa.co.uk; www.dayofwomen.org; www.wow-coaching.co.uk and coaching supervision at www.coachingsupervisor.co.uk.
About Tracy Seed
Tracy Seed works holistically with various transformative systems and models in personal and professional development arenas. Her SOUL approach is unique; it has evolved through her experience of personal development and spiritual travelling. Her professional studies and experience of working with children and families and with many individuals and groups in the UK and internationally have provided her with an intuitive insight and awareness of the spirit and soul, our connections to each other and beyond. She uses a variety of approaches including Neuro - Linguistic programming, Compassionate Communication/NVC, Reiki and Family Constellation, working with energy, thought, emotion, therapeutic dance and movement- Biodanza and mindful awareness as a living practice.
Tracy has studied and worked in various counties including UK, Greece, Switzerland, France and USA. She is passionate about supporting others to re –discover their own unique rhythm, explore their full potential and to live the life of their dreams. You can find out more about Tracy at www.tracyseedcoaching.com; and www.tracyseedassociates.co.uk She can also be found on Facebook, Twitter and Linked-in.